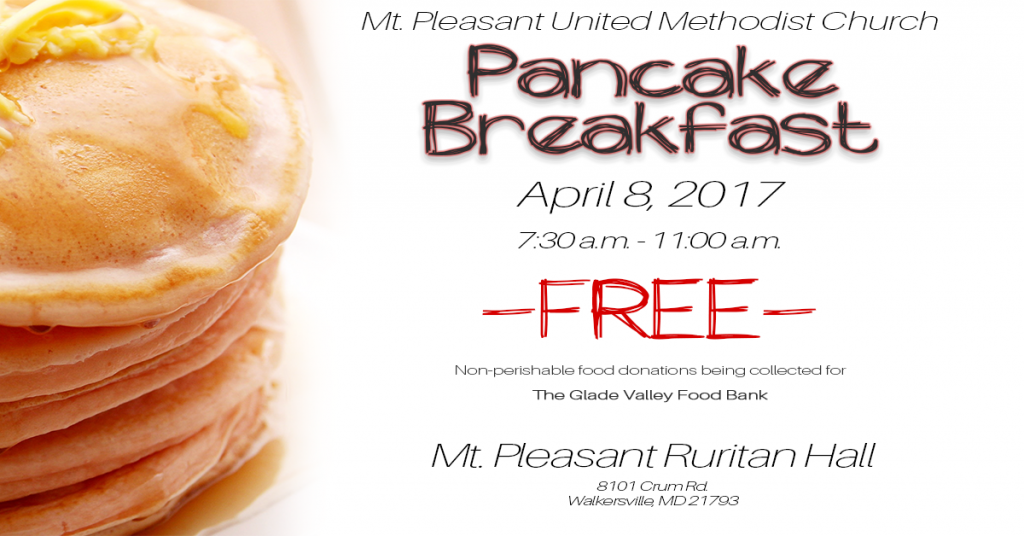 Who:
Anyone!   Everyone is welcome for a free breakfast.  The breakfast is put on by the amazing folks at Mt. Pleasant United Methodist Church with the help of family and friends!
What:
Free Pancakes!   We will also be serving a full breakfast including:
Eggs
Potatoes
Sausage
Orange Juice, Coffee, Water
And of course…Pancakes!
When:
April 8, 2017.  We will begin serving at 7:30 a.m.  We hope to continue serving until 11 a.m.   However, as you can imagine with a free breakfast, there is no telling how many will show up.  We will stop seating new guests at 11 a.m.
Where:
Mt. Pleasant Ruritan!  The address is:
8101 Crum Road
Walkersville, MD 21793
Why:
God has called this bunch to ministry.  This is called ministry.  There are to be no strings attached when serving God's people for His purpose.   How can anyone see His love, if it's constantly veiled behind our ulterior motives?  We want to provide food to all of God's people whether you have a relationship with Him and His church or not.   Just come eat and hang out.   If you are able, we welcome food bank donations.  In addition for those who are blessed and feel the need, we will have tip jars if you would like to financially support us in future No Strings Attached outreaches like this and our annual mission trip to West Virginia.
~  Hope To See You There!  ~