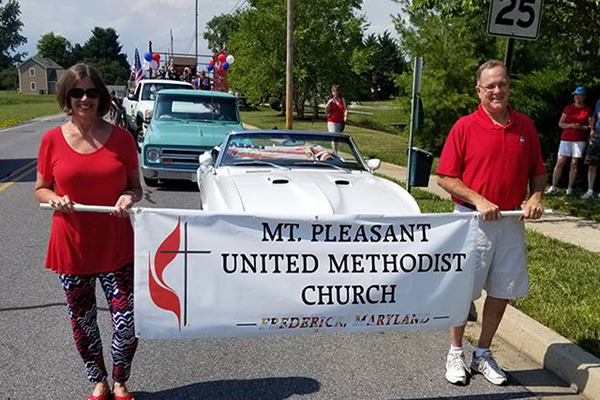 Mt Pleasant United Methodist Church is always looking for ways to be involved in our communities as well as spend some time in fellowship with one another.   So, this summer we took to the streets of Walkersville for their Town 4th of July Parade.
We went out in style with a classic car and a classic truck restored by members of our congregation, Jack Smith and Ken Poole.  The outing was an excellent time of fellowship while celebrating our nation's Independence Day.   The summer heat was tough so our members decided that instead of more candy, we should hand out 300 water bottles along the parade route.  What a great idea that was!  It turned out being even hotter than anticipated and we handed out every single water bottle before the route was over.
We are very happy to be a part of the parade and even took home top honors among non-profit organizations!  Thank you Town of Walkersville for continuing great traditions like parades, carnivals, and involving all the local churches, business, and other organizations.  We look forward to future community involvement and always keeping our hearts outstretched from our church to each and every person that God places in our paths as we navigate through our county, country, and world.
Look for us next month at the Libertytown Carnival Parade on Thursday August 10th!  We'll have more water!